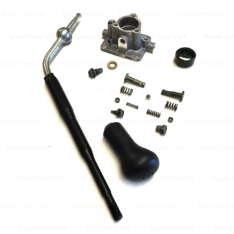 Select Free Shipping in Cart!
General Information
NEW in the Original Packaging

Stocked & Shipped From - LEXINGTON, KY
What is This Part?
These Suzuki OEM and Aftermarket Parts allow you to convert your 10mm Shifter (old style) to the more durable 12mm shifter.
It comes with all the parts you will need to completely upgrade the Transmission Shifter.
INCLUDES COMPLETE UPPER CASE!
Shifter Knob Color: BLACK

NOTE: This is an upgraded Transmission Shifter kit that was first installed in the 1990 Suzuki Samurai. This upgrade was in response to the premature failure of the Locating Bolts in the 1986, 1987, 1988 and 1989 Suzuki Samurai models. Suzuki never issued a recall for this problem, however, if it had these are the parts that would have been installed to correct the problem.

Direct Replacement
What Will I Receive?
Qty 1 - Shift Lever Case (12mm)
Qty 1 - Rebuild Kit, Shift Lever Case - 11 separate parts
Qty 1 - Shift Lever (12mm)
Qty 1 - Shift Lever Knob ( BLACK)
Qty 1 - Locating Bolt (12mm)
Qty 1 - Sheet
What Vehicle Will This Fit?
Suzuki Samurai      

1985 - 1989       

All Models

Suzuki SJ413          

1985 - 1989      

All Models