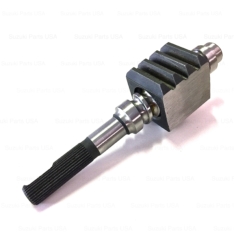 Free Shipping!
General Information
New in the Original Packaging - (Unless Bulk Packed)
Stocked & Shipped From - Atlanta, GA
What is This Part?
This is the Steering Worm for the Suzuki Samurai Steering Gearbox.
This mechanism is the leading cause of loose steering. This part wears out and can no longer be adjusted to compenesate for the wear.
Total Length = 170 mm
Worm Box Width = 37 mm
Worm Box Length = 43 mm
Shaft Length (Worm Gear) = 125 mm
Shaft Length (Splined) = 45 mm
COMES ASSEMBLED & Ready to Install

Please Verify Measurements Before ordering
What Will I Receive?
What Vehicle Will This Fit?
Suzuki SJ413      1986 - 1995       All Models